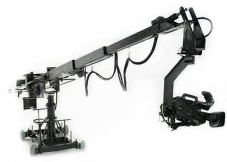 Jimmy Jibs / Crane Packages
We offer great Jimmy Jib crane packages that adapt to your needs. If you need them on location or in studios, we have the right Jibs. And we also have the perfect cranes for any type of production from Feature Films, Commercials, Music Videos, Reality Shows, Corporate, Concerts to Sporting Events.
The Jimmy Jib Triangle is the premiere portable crane for television and film camera support. It is available in sizes from 6 to 40 ft. with professional Jib Operators, Tech Crews and on-site support you can trust.